Erik A. Ostenso, O.D.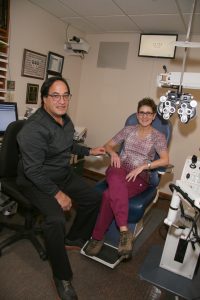 Erik grew up in Eau Claire, one of 10 children of Dr. Richard and Victoria Ostenso. He enjoyed playing football, hockey, wrestling, gymnastics, tennis and practicing karate. He graduated from Memorial High School in 1979, graduated Cum Laude with a Bachelor of Science Degree in Biology from Lawrence University, Appleton, 1983 and graduated with honors, receiving the Doctor of Optometry Degree from the Illinois College of Optometry, Chicago in 1991. Erik is an active member of the Wisconsin Optometric Association and the American Optometric Association.
Erik and Chrysa purchased his practice in Ladysmith from Dr. John Runstrom in 1992. The father of four children, Erik spends lots of time on the bleachers watching his children play sports. He loves to waterski, wakeboard, snowboard, hunt, fish and play golf. He has been a youth hockey and teeball coach. He is active in his church and with the Ladysmith Lions Club. He loves living and working in a small community and is dedicated to delivering quality eyecare to all of his friends and neighbors here in Rusk County.
Community Support
Dr. Erik Ostenso is a proud supporter of the following local charities and organizations. He never says no to a request from one of his patients to support their local cause.
• 4-H
• Alzheimer's Memory Walk
• American Cancer Society
• Boy Scouts of America
• Bruce High School
• Bruce Lions Club
• DARE
• Flambeau High School
• Girl Scouts
• Greater Ladysmith Area Chamber of Commerce
• Ladysmith Area Alano Club
• Ladysmith High School Athletic Boosters
• Ladysmith High School Music Boosters
• Ladysmith Middle School
• Ladysmith Lions Club
• Ladysmith Skate Park
• Laydsmith Jaycees
• Mental Health Association
• Our Lady of Sorrows Catholic Church
• Pregnancy Resource Center
• Rusk County Animal Shelter
• Rusk County Fair
• Shop with a Cop
• Sno-ball
• Time Out Abuse Shelter
• Westlake Enterprises
• Women of Courage